In this highly globalized world, which features increased competition due to the decline of the economy, companies cannot thrive with conventional marketing research strategies. A comprehensive marketing research strategy that not only deals with promotion, but also takes a company's management strategies into account is needed to survive in such a world.
Since its establishment in 1982, SSRI has always been striving to gather quality information that meets these needs and working hard to find ways that this information can be effectively utilized in our client's decisions and actions.
As we are always trying to look one step ahead, we have been developing new methods for marketing information collection, data processing and analysis, making full use of IT, and promoting globalization of the marketing research.
Furthermore, by using our know-how in the marketing research arena, we offer a variety of services and products to better answer our clients' needs, such as developing and selling PC software products and planning and building Web systems.
We here at SSRI Co., Ltd. will always remain at your service and look forward to a long and prosperous business relationship with you.

Social Survey Research Information Co., Ltd.
President & CEO Takashi Makita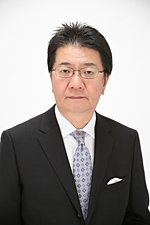 Born in Tokyo in 1956.

Joined Denso Corporation after graduating from Waseda University in Political Economy.
Joined SSRI in 1978 and became a board member in 1990.

Became President & CEO in January 2002 after serving as the sales manager and the executive officer of IT-related business, such as software products, Internet business and Internet surveys.
Became a visiting researcher at the Social System Intelligence Laboratory at Waseda University in July 2003.