Of the 13 branded anti-allergic drugs, Allegra had the highest usage rate at 72%, followed by Allelock (65%), and Xyzal (62%). For the rate of product awareness, the top 3 drugs were the same order as the usage rate. (See graph below)
As for future usage rate of main products that the respondents expect to increase in the future, Dellegra and Xyzal were especially high, and followed by Talion.
Also, 20% of the respondents have plans to start using a new product within the next six months.
---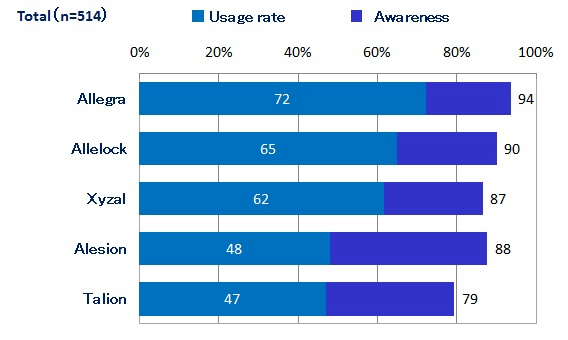 <Outline>
Target samples: N=522 with internal medicine doctors, respiratory specialists, dermatologists, ENT specialists, and pediatricians
Study period: May ~ June 2014
Studied products: Zaditen, Alesion, Ebastel, Zyrtec, Claritin, Talion, Allegra, Dellegra, Allelock, Xyzal, Onon, Singulair, Kipres
Studied items: average monthly number of patients and prescriptions, product awareness and usage rates, product satisfaction, the reasons for use, future usage expectations (short-term), intentions of switching, rate of not switching to generic products, and reasons for adopting new products
SSRI Drug Usage Trend study is a physician study that started in 1984, which focuses on products in various therapeutic areas