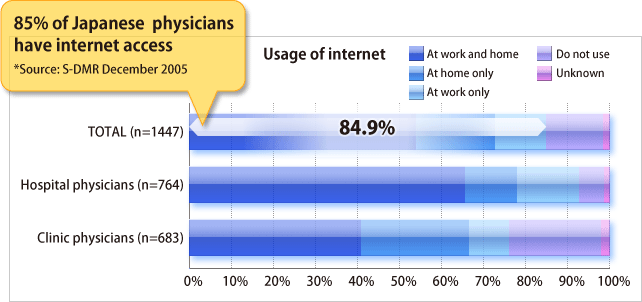 SSRI has been conducting online surveys to physicians since 1998. And with our advanced programming skills, in year 2006, approximately 45% of domestic ad-hoc projects were conducted online. Similarly, for Japan fieldwork services, online methodology has increased and in 2006, approximately 50% of all quantitative projects were conducted online.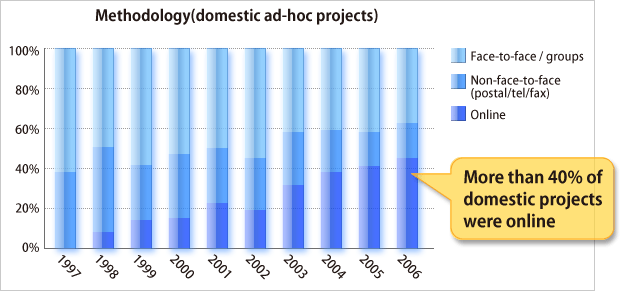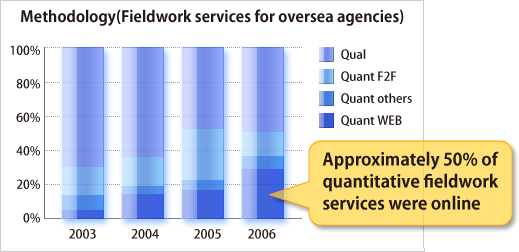 SSRI panel: 48,600 physicians (19% of physician population) of which 12,600 are online panel
We are also partners with m3.com (portal site for physicians) with 146,000 online members
SSRI Physician data base
SSRI started providing online survey services from 1998.
*Single count (Primary specialty only)
SSRI Online Panel (last updated Nov. 2008)
Primary specialty
Total n= 11,830
GPs / general internal medicine
1,102
Gastroenterology
832
Cardiology
844
Pulmonology
484
Endocrinology/ diabetology
441
Neurology
286
Psychiatry/neuropsychiatry
552
Hematology
390
Nephrology/ dialysis
161
Rheumatology/collagen disease
117
Allergy
35
General surgery
463
Gastrointestinal surgery
615
Cardiac/cardiovascular surgery
62
Mammary gland surgery
140
Respiratory surgery
87
Thoracic surgery
24
Orthopedic surgery
870
Neurosurgery/brain surgery
404
Surgery (others)
33
Urology
560
Ob/Gyn
416
ENT
568
Dermatology
365
Ophthalmology
298
Pediatric
498
Geriatric
58
Anesthesiology
553
Emergency / ICU
80
Radiology
50
Dentistry / oral surgery
149
Pharmacist
235
Others (nurse, rehab, lab techs etc.)
58
Our online physician panel only consists of physicians who have actually participated in our other market research (i.e. face-to face, telephone interviews etc.) and who have agreed to register in our online panel.
Thus our online physician panel is strictly for market research purposes and no promotional activities and such are conducted.
Within the online physician panels in Japan, we have one of the highest response rates exceeding 30% (for on average online survey).
For further details or questions regarding our online capabilities, please contact SSRI at: xintl@ssri.com